How to Fix no Wireless Network Issue in Ubuntu Linux
After dual booting MacBook Air with Ubuntu, when I logged in to Ubuntu, I found that Ubuntu did not detect any wireless network. Networking was on but it said 'no network devices available'.
Indeed it is a common issue not only with with Broadcom network adapters but other network adapters as well in Ubuntu Linux.
A relief is that Ubuntu provides additional drivers specifically for various wireless adapters. But the issue is that to install additional drivers in Ubuntu you will need a network connection. If you have a wired connection, it will be very easy to install the additional drivers. But if you are restricted to the wireless network only, you'll have to look for alternate methods.
In this tutorial, I'll show you a few methods to fix wifi issue in Ubuntu and other Ubuntu based distributions such as Linux Mint, elementary OS etc.
Fix no WiFi issue in Ubuntu based Linux distributions
First, find out the network adapter in your system. You can refer to this article to find out the make of wireless network adapter in Linux. In fact, you can just check in Software Sources if there are any additional drivers available for your system or not. If there are propriety drivers available, this method will easily work for you. Also, you will need the ISO image of the same Ubuntu version.
Method 1: Use the ISO image to install additional wifi drivers in Ubuntu
Step 1:
Get the ISO image of Ubuntu. If you just had a fresh install, you must have this ISO image in some other system or same system in another OS in dual boot. Copy it to an external device such as USB or DVD. Just copy it, don't burn it as bootable USB.
Now boot into Ubuntu and copy this Ubuntu ISO image to your home directory.
Step 2:
Open a terminal (Ctrl+Alt+T) and use the following commands:
Basically, we just manually mounted the ISO image as if it was a CD.
Step 3:
Go to Unity Dash and look for Software & Updates:
In the first tab Ubuntu Software, check the option of CD Rom with Ubuntu…
It will ask for your password and reload the software sources. Next is to go in the Additional Drivers tab and select the propriety driver and click on Apply Changes.
Once the drivers have been installed, you'll see that Ubuntu now recognizes the wireless networks in range.
It may happen that Ubuntu doesn't show additional drivers for your system or you may not be able to install the additional driver. It could also be the case that despite the additional drivers installed, the wifi still doesn't work.
Important: You should uncheck the 'install from CD ROM' option in the Software & Updates after this step.
In that case, you may refer to the next method but keep in mind that it is exclusively for systems with Broadcom wireless adapters.
Method 2: Fix no WiFi in Ubuntu with broadcom wireless adapters
This method is exclusively for Broadcom 43 series of wireless adapters. So make sure that you have these adapters by using this command:
If you see a wireless network adapter starting with BCM43, then only you should go ahead with this part of the tutorial.
*-network
description: Wireless interface
product: BCM4360 802.11ac Wireless Network Adapter
vendor: Broadcom Corporation
physical id: 0
bus info: [email protected]:03:00.0
logical name: wlan0
Step 1:
The first step is to remove any broadcom drivers already installed on your system. Open a terminal and use the following command:
Step 2: If you are connected to internet via ethernet
If you are connected to internet via LAN/Ethernet cable, you can install different broadcom drivers using this command:
Once the install is finished doing its work, you'll need to reboot. After you log back in, you'll be able to see and access your wifi connections.
Step 2: If you don't have any internet connections
If you don't have ethernet, you may still be able to pull this off. But you'll need another system (Linux, Windows or macOS) with active internet connection.
What you are going to do here is to download the driver manually and then transfer it to your problematic Linux system and install it there.
First check which Ubuntu version you are using: Now go to this link to download the WiFi driver for your Ubuntu version.
You should see a screen like this. Click on the link that corresponds to your Ubuntu version:
Now on the next page, click on the 'all' link:
On the next screen, you'll see a huge number of links. These are various server mirrors and you can click on any of them to download the DEB file of broadcom driver for Ubuntu and Linux Mint.
Once you have downloaded the DEB file for the broadcom driver, transfer it to your Ubuntu system that doesn't have the WiFi. You can use a USB drive to transfer the file.
Once you have copied this DEB file to Linux system with no WiFi, install the drivers from DEB file by double clicking on it.
Alternatively, you can use the dpkg command to install the package from deb file.
Follow the rest of the instructions to install the drivers. Once installed, reboot your system. You should have the WiFi now.
Did it work for you?
Troubleshooting wifi issue could be tricky in Linux. I have encountered an issue where Ubuntu could see the wireless networks but couldn't connect to it.
I hope this post helped you to fix no wireless network issue in Ubuntu. If you have questions or suggestions, feel free to drop a comment.
Источник
How to fix your Internet connection in Ubuntu Linux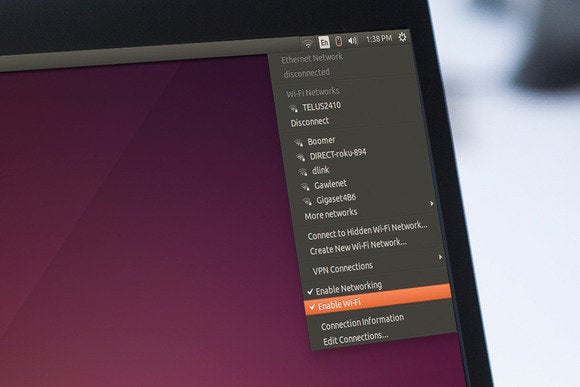 Chris Hoffman
Today's Best Tech Deals
Picked by PCWorld's Editors
Top Deals On Great Products
Picked by Techconnect's Editors
Ubuntu's included NetworkManager software aims to make your network connections "just work." Nevertheless, sometimes thing go awry. There are times you have to adjust or change your connection settings, especially when using a laptop—just like in Windows.
Luckily, you won't have to pull up the terminal and type any arcane commands to make your Internet connection work.
Check the basics first
Before you blame Ubuntu, try connecting to the Internet on other devices. If they're experiencing the same problem, it isn't with Ubuntu—it's with something else. For example, you may need to reboot your router, modem, or both. It's always worth checking these fundamentals before delving into further troubleshooting.
Some laptops have hardware switches that can be toggled to quickly enable or disable Wi-Fi. If your Wi-Fi doesn't seem to be working at all, check your laptop's hardware Wi-Fi switch.
If you're using a wired connection, ensure the ethernet cable is plugged firmly into both the computer's ethernet port and the router's ethernet port. Sure, this may seem a bit obvious, but it's easy to miss a bumped switch or loose cable.
To fix signal strength problems with Wi-Fi networks, arrange your router, computer, and other objects in your house for the best possible Wi-Fi signal strength.
Configure your connection settings in NetworkManager
NetworkManager connects to Wi-Fi networks and automatically configures wired network connections when you plug in an ethernet cable. Before NetworkManager, you'd have to do this with terminal commands.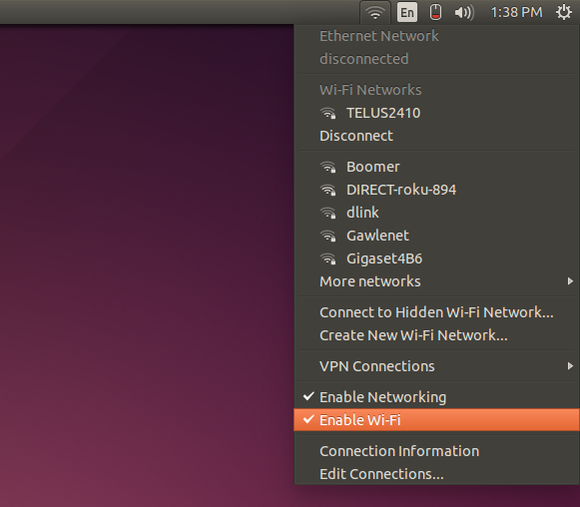 The popup menu for NetworkManager appears when you click on the connection icon (either wired or wireless) in Ubuntu's notification area.
If something isn't working properly, you may still have to configure NetworkManager. Click the network connection or Wi-Fi icon on the panel at the top-right corner of your screen to access the NetworkManager menu, then choose a network. If you need to view information about your connection for troubleshooting purposes—your computer's IP address, for example—click Connection Information.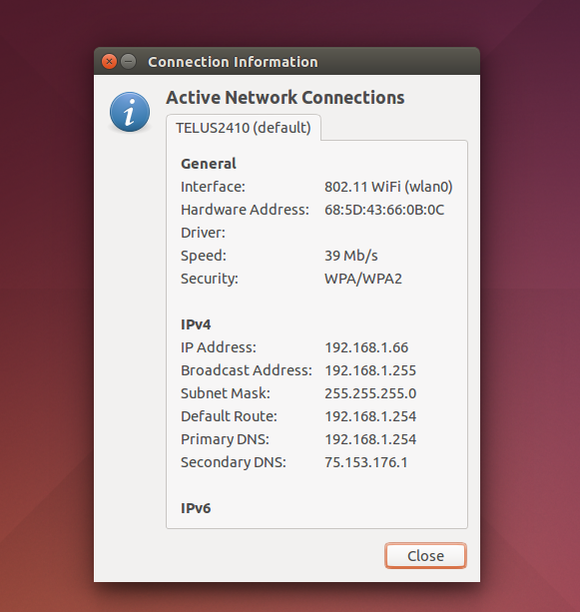 NetworkManager's Connection Information windows shows all the details about your active connections, including network interface, security, and connection speed as well as your MAC and IP addresses.
If your local network connection isn't working, ensure the Enable Networking and Enable Wi-Fi options are selected here in the menu. These options let you quickly disable and enable your connections, which is useful for putting your laptop into airplane mode. If you accidentally disabled either, you won't have an Internet connection until you re-enable them.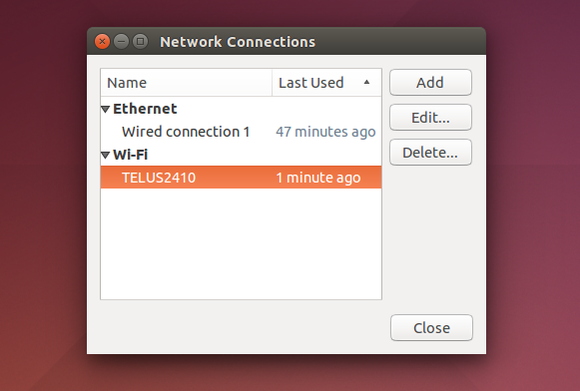 NetworkManager allows you manage several network connections and use different settings for each.
Configure your connections by clicking Edit Connections. You'll see a window with one or more connections, depending on how many network adapters you have in your computer. Select a connection and click Edit to modify its settings.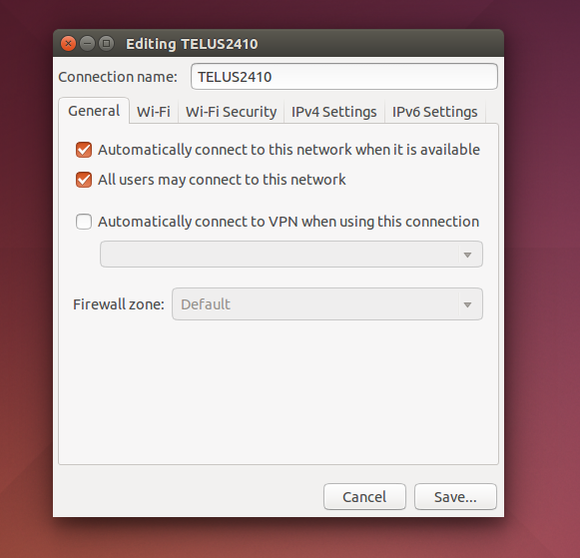 NetworkManager's Edit Connection dialog lets you set or change all the details about your wired or WiFi connection.
Ensure the 'Automatically connect to this network when it is available' option is enabled on the General tab. If it's disabled, NetworkManager won't automatically connect to a wired or wireless network when you boot your computer.
NetworkManager uses Dynamic Host Configuration Protocol (DHCP) by default, so your computer will attempt to get connection settings—IP address, DNS servers, and default gateway—automatically from your router or Internet service provider.
For networks that require a static IP configuration, you'll need to visit either the IPv4 Settings or the IPv6 Settings pane and select the "Manual" method. (If you're not sure which you're using, you're probably still using IPv4.) Enter the details your connection requires here—your ISP or network administrator can tell you what to enter if you don't know.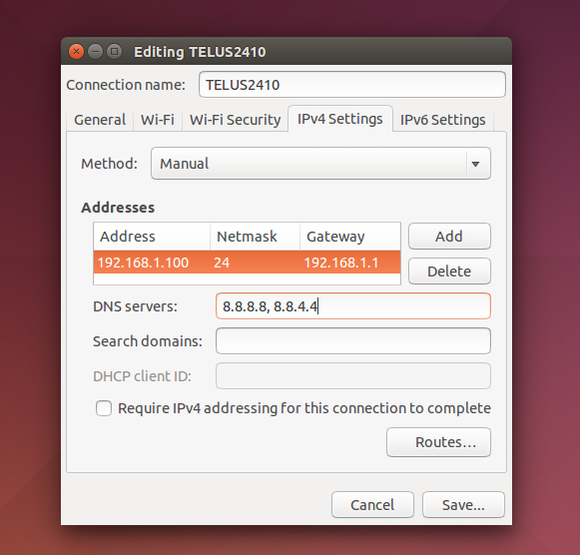 You can easily configure your connection to use manual settings and enter those settings in NetworkManager.
If, for some reason, your network only allows devices with a specific MAC address to connect, click the ethernet tab and enter that information into the 'Cloned MAC address' box.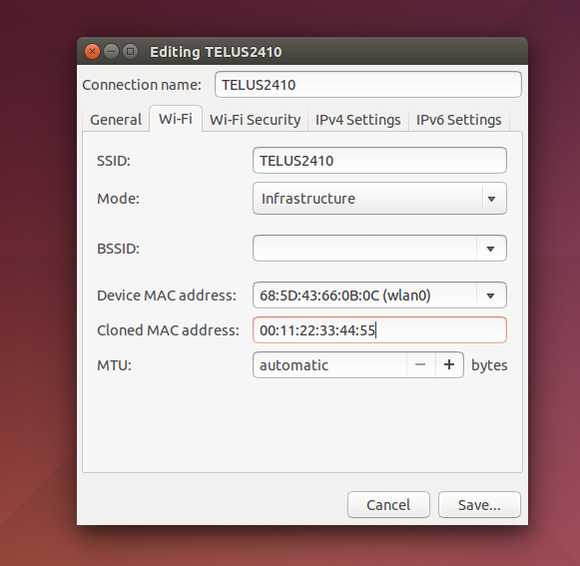 Keep reading for more on checking Wi-Fi drivers and wielding diagnostic tools.
Источник
Соединение по wi-fi установлено, но интернета все равно нет. Ubuntu 16.04
Помощь в написании контрольных, курсовых и дипломных работ здесь.
Как проверить установлено соединение или нет
Здравствуйте! Нужно проверить установлено соединение или нет. Вот функция.
все установлено. но звука нет
подскажите в чем здесь причина? установила windovs 7, после, как положено драйвера на устройства.
Нет интернета на Ubuntu.
Здравствуйте, я заинсталлировал Ubuntu на компьтер через Windows XP инсталлятором wubi.exe, который.
L500, Ubuntu, NdisWrapper. Интернета нет.
Ребята, помогите! Купил Тошиба L500. С Wifi много проблем, работает скверно, фирменные утилиты.
Записывайтесь на профессиональные IT-курсы здесь
Еще можно попробовать имя сети поменять и проверить.
kapitan_lyagysh, какое имя? как?
У меня так со всеми сетями вайфай, к которым я подключаюсь
Да, я нагугливал эту нитку, и пытался поменять эти
/etc/pm/power.d/wireless
и
/etc/modprobe.d/iwlwifi.conf
как там было предложено, но это как-то не возымело эффекта. Может потому что я сделал всё так же как там говорилось, бездумно, а может мне что-то другое надо было сделать. Я простио плохо разбираюсь. поэтому я решил обратиться сюда за помощью.
Сообщение от belliavesha
Сообщение от belliavesha
Сообщение от belliavesha
я бы начал с роутера, канала на нем (смещения в центр к 6-му), метода шифрования (понижения/выключения) и т.п.
а может драйверу надо обновиться. для этого на время подцепить кабелем к роутеру, и когда система получит доступ в интернет, запустить обновление всего ПО
Сообщение от belliavesha
Кстати, я только что заметил, что на дне роутера написано, что мак-адрес
EC:43:F6:08:99:71
То есть на 1 отличается от Access Point в iwconfig
Я просто не знаю норма это или нет
Добавлено через 1 час 17 минут
apt-get update и apt-get upgrade не помогли. Причём там какая-то ошибка была.
Сообщение от belliavesha
Сообщение от belliavesha

Ubuntu 15.10 Подключение Wired есть, интернета нет
Установил новую ubuntu. как обычно прописал вручную все настройки(подключен кабель к ноуту),но.
Отключается интернет, а на Области уведомлений всё равно стоит значок интернета.
И когда кликаю по этому значку, моргает окно подключения к интернет. При щелчке правой кнопкой мыши.
Формы регистрации нет, а боты все равно регистрируются
Здравствуйте! Я на своем сайте включила форму регистрации. все было нормально, но потом я заметила.
TIdHTTP проверка установлено ли соединение с интернет сетью?
Как сделать проверку, если соединение с интернетом существует, то открывай такой-то адрес, скажу.
Всё подключено, а интернета нет
Ситуация такая. На ровном месте перестал работать интернет на стационарном компьютере, у меня.

Что бы я ни нажал в confirm, будь то "Да" либо "Нет", все равно выдает команду: alert('Извините, но вам нет 18-ти')
Чтобы я не нажал, будь то "Да" либо "Нет", выдает все равно команду: alert('Извините, но вам нет.
Источник

Ubuntu не работает Wi-Fi? Вот как это исправить
Ubuntu — мощная бесплатная операционная система с открытым исходным кодом, которая хороша для новичков, которые хотят исследовать Linux и опытных профессионалов, которые хотят надежную, безопасную систему для проектов и подобного. Однако, несмотря на все его достоинства, иногда у вас могут возникнуть проблемы с подключением к сетям Wi-Fi.
Проблема подключения Wi-Fi может быть как в аппаратном так и программном обеспечении. Вот некоторые эффективные решения, если пользователи сталкиваются с проблемой подключения к сетям Wi-Fi .
Проблема 1: Устройство не обнаружено
если вы используете плагин в USB беспроводной карты / ключа.
sudo lspci
если у вас есть внутренняя беспроводная карта .
Если ответ от этих команд возвращается с выходом, похожим на снимок экрана ниже, то вам повезло, Ubuntu может найти карту. Обычно это определяется «Сетевым контроллером» или «Контроллером Ethernet».
В прошлом многие дистрибутивы Linux испытывали трудности с поиском беспроводной карты. К счастью, поддержка стала намного лучше, так что теперь это редкий случай.
Дополнительные команды
Результат должен напоминать нечто подобное:
*-network description:
Проблема 2: Отсутствует модуль драйвера
Вы видите список используемых модулей. Чтобы активировать ваш модуль, введите следующую команду, где «modulename» — это имя вашего набора микросхем.
sudo modprobe modulename
Например, если ваш беспроводной чипсет «RT2870», это будет следующим.
sudo modprobe rt2800usb
После этого запустите команду lsmod еще раз, чтобы проверить, правильно ли она загружена.
Загружать модуль автоматически при загрузке
sudo nano /etc/modules
Текстовый редактор Nano откроется. Теперь добавьте имя своего модуля внизу и сохраните файл. Затем вам нужно будет перезагрузить компьютер и проверить, может ли беспроводная карта теперь видеть сеть, чтобы вы могли нормально подключаться.
Если вы застряли, повторите этот процесс. К счастью, Ubuntu имеет полезные справочные страницы в своей онлайн-документации, которую вы также можете прочитать. Кроме того, вы можете использовать встроенную справку в терминале, введя:
Проблема 3: DNS
nmcli device show wlan1 | grep IP4.DNS
Это покажет вам адрес локальной сети в маршрутизаторе. Если это не сработает, вам может потребоваться изменить «wlan1» на то, что использует ваша беспроводная связь. Следующая команда также может использоваться для захвата обозначения:
После того, как у вас есть эта информация, следующий метод — выполнить ping — адрес вашего маршрутизатора. Если это работает, попробуйте выполнить проверку DNS- серверов Google
В результате этого вы можете установить, где проблема DNS. Если на всех устройствах вашего дома или офиса возникают ошибки загрузки страницы, измените DNS-сервер маршрутизатора на Google или откройте DNS- серверы. Вам нужно проконсультироваться со своим производителем маршрутизатора, как это сделать, но обычно это делается на страницах администрирования чаще всего путем входа в систему 192.168.0.1 или аналогичного.
Если ваша проблема с DNS — это только Ubuntu, выполните следующие действия, используя графический интерфейс Network Manager.
Щелкните правой кнопкой мыши на Network Manager.
Изменить соединения.
Выберите подходящее соединение Wi-Fi.
Выберите Настройки IPv4.
Изменить метод только для адресов DHCP.
Добавьте 8.8.8.8, 8.8.4.4 в поле DNS-серверов. Помните про запятые, разделяющие IP-адреса, и не оставляйте пробелы.
Сохраните, затем закройте.
Проблема 4: Нет сетевого менеджера
Допустим, вы удалили Network Manager или случайно удалили его. Это очень неприятная ситуация, у вас нет интернета и нет диспетчера сети, но есть вещи, которые вы можете сделать.
Предполагая, что apt-пакет все еще находится в вашем кеше, вы можете перейти к терминалу и ввести:
sudo apt-get install network-manager
Если вы удалили этот кеш, вы можете использовать кабель Ethernet для подключения, подключив его к порту Ethernet и снова выполнив приведенную выше команду.
В качестве последнего шага, если ничего из этого не будет сделано, вам нужно будет отредактировать файл конфигурации. Я выбрал gedit в качестве текстового редактора, но вы можете использовать свой предпочтительный вариант и изменить команду.
sudo gedit /etc/network/interfaces
Измените его на то что прочитаете ниже,
Затем вы можете перезапустить интерфейс, введя это,
sudo ifdown wlan0 && sudo ifup -v wlan0
Ubuntu не работает Wi-Fi? Вот как это исправить
Reviewed by Admin on августа 26, 2018 Rating: 5
Источник
Connected to Wifi but no internet
Hi so I'm a complete Ubuntu beginner and I have just installed it. So the problem is that I am connected to the Wifi (wireless) but I can't actually use the internet. I am using Ubuntu 16.04.
5 Answers 5
I found a simple fix. I didn't have any problems pinging IP addresses; I ran into problems when I tried to issue a command like:
In other words, I could connect to the internet, as affirmed by the wifi indicator, but I was having problems turning domain names into IP addresses. This process is handled by the text file /etc/resolv.conf, so I decided perhaps it need to be updated. I issued the command:
but Ubuntu spit this back at me:
This was the source of my problem: somehow /etc/resolv.conf was pointing to /run/resolvconf/resolv.conf . Fortunately, once I removed the bad symbolic link and created a new symbolic link the wifi worked immediately. That is, I ran the following commands:
and the wifi was back up! I hope this simple solution works for you too!
knowing how to address a non working internet connection may help as follows.
opening a terminal and.
See if you can ping or traceroute to google's public dns.
If you get communication with Googl's public DNS then skip down to the last step on DNS.
If you're not getting a ping/traceroute to Goole's DNS then start by making sure your wireless addapter is getting IP information with the command.
output should have ip information listed for your wireless adapter something like.
next check to make sure you have a default route
output should have a route something like.
At this point you should be able to ping and/or traceroute to Google's public DNS «8.8.8.8». If not then call your Internet provider for additional help with your internet connection.
Now that we can ping google's public DNS we can be well assured that our internet is working. If you're still having problems then your computer is most likely not reaching a working DNS service. You can check your DNS servers with.
You should also check the connection status in your network manager if you're using a desktop version of ubuntu. Once you have identified/set your DNS servers make sure you can ping them as well. If you can ping the DNS servers that you have set then the problem resides above the network layer in a firewall or application issue.
Источник