The 9 Best Wi-Fi Hotspots That Deliver Reliable Connections and Fast Speeds
Public Wi-Fi is slow and insecure. Consider investing in one of these top-rated hotspots instead!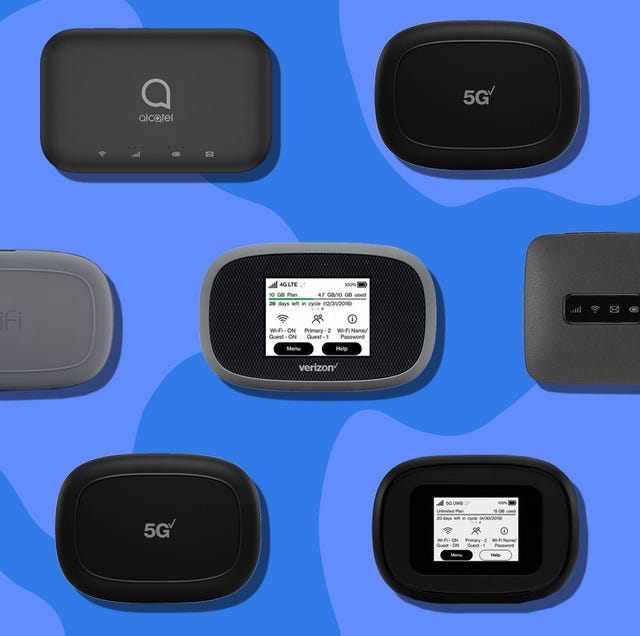 Wi-Fi hotspots offer a convenient way to keep your laptop, tablet, and all other connected devices online without draining your smartphone's battery and data plan.
Even though we've listed the full price of the Wi-Fi hotspots on this list, you can buy most of them in low monthly installments with a qualifying data plan. Just note that this option isn't available for our unlocked and pay-as-you-go picks.
Best Wi-Fi Hotspots
Best for AT&T Users:NETGEAR Nighthawk M1
Best for Verizon Users:Verizon Jetpack MiFi 8800L
Best Unlocked Hotspot:NETGEAR AirCard 797 (AC797)
Best At-Home Hotspot:NETGEAR Orbi Tri-Band Wi-Fi Router
Best for T-Mobile Users:T-Mobile Alcatel LINKZONE 2
Best Pay-as-You-Go Option:GlocalMe G4 Pro
Best 5G Hotspot:NETGEAR Nighthawk 5G Mobile Hotspot Pro
Best Budget Hotspot:Alcatel Linkzone
Best for Sprint Users: MiFi 8000 Mobile Hotspot
A standalone Wi-Fi hotspot requires a data plan from the carrier of your choice, and plan prices vary depending on the amount of data that you choose. That is unless you choose a pay-as-you-go hotspot. At the time of publishing, AT&T charges $75 per month for a mobile hotspot. Verizon charges $80 each month. Both carriers have a data cap of 15 GB before they start throttling speeds. For an extra $10 each month, you can double your allotted data for these carriers. T-Mobile charges either $70 or $85 depending on if you want either 5 or 15 GB of data before speeds are throttled.
If you only plan to use your hotspot for web browsing and staying on top of your work emails while traveling, there's no need to spend a whole lot on data. But if you plan to connect multiple devices to the Wi-Fi hotspot or stream video, consider a plan with more data to avoid potential overages. And while you can use your iPhone or Android smartphone as a Wi-Fi hotspot instead of buying a separate device, just be sure that you have the right plan for it, so you don't incur any unexpected fees.
How We Chose
We've been researching this product category for three years and feel confident recommending these nine best Wi-Fi hotspots available on- and off-contract to keep you connected on the go. To separate the best from the rest, we compared the following:
Network reliability
Battery life
Supported Wi-Fi bands
Ease of Use
Wireless Speeds
We also factored in whether or not the hotspots could be used with a wired connection and gave extra points for models that have built-in batteries and USB ports that allow you to recharge all your other devices.
Источник

The Best Mobile Hotspots for 2021
Why rely on public hotspots when you can bring your own Wi-Fi with you, wherever you go? Here's what you need to know to choose the right mobile hotspot, along with the top models on each carrier.
Related Modem & Hotspot Picks:
Our 6 Top Picks
Best AT&T Hotspot
Nighthawk LTE Mobile Hotspot Router (AT&T)
Best T-Mobile Hotspot
T-Mobile Inseego 5G MiFi M2000
Best Verizon 4G Hotspot
Verizon Jetpack MiFi 8800L
Best for International Travel
Skyroam Solis Lite
Best Verizon 5G Hotspot
Verizon MiFi M2100 5G UW
Best for Prepaid Service
ZTE ZMax Connect MF928
Compare Specs The Best Mobile Hotspots for 2021
Who Needs a Hotspot?
4G LTE networks are better than ever, and with 5G networks lighting up around the world, wireless web surfing can be faster than your home Wi-Fi connection. Most modern smartphones have a hotspot mode, but cellular modems and Wi-Fi hotspots have historically been your best and most flexible option if you have a lot of devices you want to share web access with.
Hotspots can connect more than just laptops to the web. They'll work just fine with a tablet, a camera, and pretty much any other Wi-Fi-enabled device. They support more devices at one time than your phone's hotspot mode, don't drain your phone's battery, they can be hooked up to better antennas than your phone has available, and they can have separate service plans paid for by your company.
With that in mind, here's what you need to know to pick the right service and hardware, along with the top-rated hotspots we've tested, and even an international option.
The Best Mobile Hotspot Plans
Hotspots are available from all three nationwide carriers, as well as several virtual operators that use the larger carriers' networks.
Along with the three major carriers, you can get hotspots from Boost (T-Mobile), H2O (AT&T), Karma (T-Mobile), NetZero (T-Mobile), and Net10 (Verizon), along with a few other minor players. Plans range from «free» for 200MB per month with NetZero (you'll need to buy a hotspot) up to $100 or more.
Hotspot plans change all the time. On AT&T and Verizon, the best idea is to add your hotspot line to your existing carrier's phone plan, as a separate line. That will get you the most data for your dollar. If you add a hotspot onto an «unlimited» phone plan, you'll get 15 to 20GB of high-speed data with Verizon, 15 to 30GB of data with AT&T, and 50GB with T-Mobile. After that your data will be deprioritized, or unpredictably slowed.
T-Mobile now has a terrific dedicated hotspot plan, at $50 for 100GB, along with less expensive, more limited plans.
Do You Need a 5G Hotspot?
AT&T, T-Mobile, and Verizon all have 5G hotspots out now. T-Mobile's M2000 is excellent, with good battery life and data performance comparable to the Samsung Galaxy S21 Ultra phone. Verizon's M2100 is a good choice if you are near Verizon's admittedly limited millimeter-wave 5G coverage. We haven't tested AT&T's Netgear Nighthawk 5G hotspot, but considering that AT&T's 5G performance is generally poor, I don't think it will perform much better than the 4G model we feature in this roundup.
On both AT&T and Verizon, I'd say that if you can wait until the next round of hotspots, you should. The reason is something called C-band, a new frequency that will give those carriers much better 5G speeds across major cities. It isn't available on any of those carriers' current hotspots, but C-band products will probably appear later this year. Verizon has pledged to cover 100 million people with C-band by March of 2022, so if you're investing in a hotspot for the next few years, it'll make a real difference.
Hotspots Can't Replace Home Internet
Hotspot plans aren't designed for primary home use. They cost much more per byte than a home DSL or cable setup.
The median US home broadband subscriber uses more than 346GB of data per month, mostly because of video-streaming services such as Netflix and Hulu. All of those Zoom calls for work and school are likely to eat up a data cap quickly, as well. So if your needs don't involve video or music streaming, a wireless hotspot may be a viable alternative for your home. But if they do, you'll find you become quickly frustrated by the data bucket limits.
There is such a thing as wireless home internet, and it's sold differently from hotspots. It uses larger, less portable routers and it's generally tied to one location. Recent wireless-Internet plans are more likely to have truly unlimited data than hotspot plans. AT&T, Verizon, and T-Mobile all sell wireless home internet in various parts of the country, along with a wide range of smaller, local wireless internet service providers (WISPs).
So who's using hotspots, for now? Prior to COVID-19 it was road warriors—business people who need reliable connections on the go that support multiple devices and don't drain their phones' batteries. Now, food trucks and other outdoor-dwelling small businesses use hotspots to light up their POS systems and get their Seamless orders. Vacation home and RV owners might also use hotspots for their roaming, part-time homesteads. And folks who can't get the carriers' dedicated wireless Internet plans may still find they fall back on hotspots.
The Best Hotspot Hardware
The three big carriers have been frantically upgrading their networks recently, and in many cases, network capabilities have now outstripped the quality of older hotspots running on them. That means recent phones will get better speeds than older hotspots do.
Quality 5G hotspots such as the MiFi 2000 use the Qualcomm X55 modem; we're waiting right now for hotspots with the latest Qualcomm X60. The best 4G hotspots use the Qualcomm X20 or X24 modems, which you'll find in the MiFi 8000 and MiFi 8800L. Other hotspots out there, including everything the virtual carriers currently sell, use three- or four-year-old modems that have lower speeds and worse signal strength than the best new phones. That means you may get 5Mbps to 10Mbps where your phone gets 25Mbps to 30Mbps, for instance.
Many high-quality 4G hotspots have TS9 external antenna ports to help you improve your signal using inexpensive antennas you can purchase online. TS9 is a standard, and these antennas cost much less than a cellular signal booster does. Unfortunately, 5G hotspots generally do not have external antenna ports.
Make sure your hotspots support 5GHz Wi-Fi, which is typically faster and less congested than 2.4GHz Wi-Fi. Some hotspots also support guest networks and access controls, such as MAC filtering and time-based access controls. Those features are on pretty much all dedicated routers nowadays, but you can't take them for granted on mobile hotspots.
Hotspots with big batteries can be used as power banks to charge your phone, and hotspots with microSD card slots can be used as tiny servers to share media on their Wi-Fi networks. That said, we've never found a real use for that media server functionality.
We really like the displays on the front of many current hotspots. They can report the strength of your signal, your hotspot's name, data usage, and the network password right on the device.
To Tether or Not to Tether?
If you decide to make the jump, hotspots and cellular modems aren't the only option. Smartphones have a Wi-Fi hotspot mode, and if you have a 5G phone, you might get better performance in that mode than you would with a 4G hotspot. That said, phones support fewer devices at once than hotspots do, they have fewer network management features, and the hotspot usage drains your battery quickly.
To help narrow down your decision, head over to our explainer on the tethering vs. dedicated hotspot debate. And check out our tips on how to turn your phone into a Wi-Fi hotspot.
Beware: Overseas Surfing Will Cost You
US hotspots generally allow you to roam in Canada and Mexico, although rates may be high—definitely check with your carrier in advance to find out. For short trips further abroad, we recommend renting the Skyroam Solis Lite, which has LTE connectivity in most places.
It's surprisingly hard to find an unlocked hotspot with global LTE bands in the US, so if you want to go the route where you buy a local SIM to take advantage of much lower local data rates, your best choice is to use the hotspot function on your phone.
And before you commit to a modem or a plan, make sure to check out our most recent hotspot reviews.
Источник
Best portable Wi-Fi hotspots 2021: mobile Wi-Fi for international travel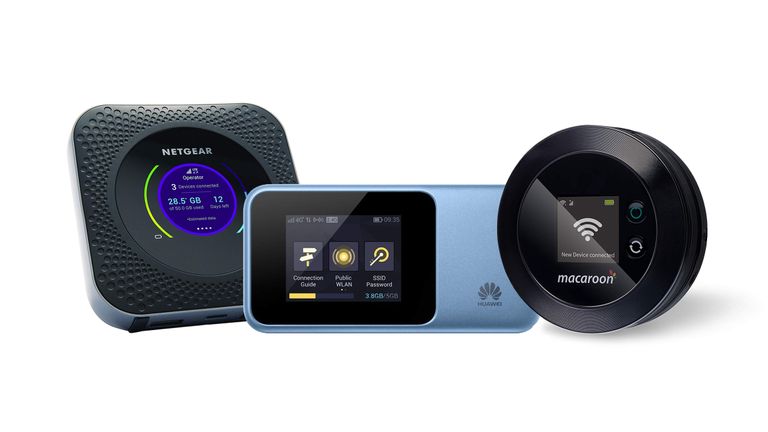 Getting online abroad used to best be avoided. Expensive roaming charges made it uneconomical, and though roaming is presently possible for UK mobile users in the EU, that might soon change.
Besides, using a laptop usually means finding potentially dodgy Wi-Fi networks, and buying local SIM cards when travelling long-haul is a faff. Cue the mobile Wi-Fi hotspot and global SIM card, which bring convenience and security like never before.
Literally anywhere there's a 2G, 3G, 4G or 5G mobile phone network is ripe for getting online thanks to these devices, which attach to a local mobile phone network and create a WiFi network that several devices can then connect to.
Check out our guide below on how to choose the best Wi-Fi hotspots for international travel this year. And, speaking of travel, if you're shortly going to be going off on a trip then be sure to check out T3's ultimate travel guide, as well as best suitcase and best carry-on luggage buying guides.
The best portable Wi-Fi hotspots you can buy today
1. Skyroam Solis
A lightweight all-rounder with pay-as-you-go data deals
Specifications
Reasons to buy
Reasons to avoid
Fancy continuous global Wi-Fi wherever you go? You can get 4G WiFi in 130+ countries using this orange puck's patented virtual SIM (vSIM) tech that automatically connects to local carriers.
Data is pay as you go and paid-for online: one day costs $9, five days a costs $45, 10 days costs $90, and for 20 days it costs $180, while an unlimited monthly subscription costs $99.
It's easy to use and works for up to five devices with a 6,000 mAh battery inside that doubles as a handy power bank for phones and tablets. It recharges via USB-C and its maximum data speed is 150Mbps.
Compare this portable Wi-Fi hotspot to another top-rated model in T3's Skyroam Solis vs Netgear Nighthawk M1 comparison feature.
2. Huawei E5788
This 5G-ready hotspot allows 32 devices to get online
Specifications
Reasons to buy
Reasons to avoid
If you're happy to sort out your own data deals and you're traveling in a large group, the world's first LTE CAT16 mobile hotspot might suit. Unlocked so you can use any SIM card inside – including any global SIM or a local SIM – the E5788 is 4G and even 5G-ready, and can download at up to 1Gbps. Like the Skyroam Solis, it has a built-in battery that doubles as a power bank, but it's only 3,000mAh, so only good enough for an emergency recharge of a phone or tablet. Connects to up to 32 phones via NFC tap.
3. TP-Link M7350
Back to basics 4G mobile WiFi hotspot for up to 10 devices
Specifications
Reasons to buy
Reasons to avoid
Here's a back-to-basics mobile WiFi hotspot that will suit anyone wanting to get basic 3G and 4G access for one or two people. Although it creates WiFi for up to 10 devices, its small 2,000mAh battery (good for eight hours) does not double as a portable power bank. However, it's got a great little LCD display that lets you know what's going on in terms of signal strength and battery. You'll have to sort out SIM cards on your own, but there's a tpMiFi app that lets you set data limits, control which devices can access WiFi, and share photos, music, and videos via the M7350's micro SD card slot.
To see how this model stacks up against our number one rated portable Wi-Fi hotspot, be sure to check out T3's Skyroam Solis vs TP-Link M7350 comparison feature.
4. Macaroon Mobile Wi-Fi Hotspot
Say goodbye to SIM cards with this app-based hotspot
Specifications
Reasons to buy
Reasons to avoid
Here's a hybrid all-in-one that eschews local SIM cards completely and offers online data deals using built-in software. This Wi-Fi hotspot from Hong Kong-based Macaroon has cloud SIM tech, which works via a smartphone app that sells global data deals. That makes it subtly different from the Skyroam Solis, which works through a web interface accessible by any device, though the Macaroon's data costs are dynamic and only available via the app. Elsewhere it's standard issue hotspot hardware that can also be used with third-party SIMs. It has a battery life of 3,000mAh.
5. Netgear MR1100-100EUS Nighthawk
Gigabit WiFi and a massive battery make this a future-proofer
Specifications
Reasons to buy
Reasons to avoid
Tempted by maximum download speeds of 1Gbps? Though 5G will one day dominate, it's almost non-existent for now, and meaning this 4G option actually makes more sense. As hotspot hardware goes it's pretty advanced. Like the Huawei E5788 it's got LTE CAT16 tech for fast download speeds, as well as a 2.4-inch LCD panel, a microSD card slot for sharing files between up to 20 connected devices, and a monster 5,040mAh battery.
How to choose the best WiFi Hotspot for travel
You'll want a data connection abroad if you want to use WhatsApp, FaceTime, Skype, Facebook, Twitter and Instagram abroad, but what you get depends on what you buy.
The first choice is to buy an off-the-shelf hotspot from the likes of Huawei, TP Link or Netgear for a fixed price, then insert a global SIM card from a different supplier such as Dataroam, WorldSIM or many others.
The other is to buy an all-in-one mobile WiFi hotspot device that has a built-in eSIM and normally come with some free international data, plus the chance to easily top it up online whenever you run low on data.
The price of data will always be a critical part of your experience, but while all-in-one mobile WiFi hotspots such as Skyroam Solis and Macaroon are tempting, check that they give you data where you want it and allow pay as go data upgrades that suit your purpose.
Prioritise 4G or 5G data if you want an ultra-quick connection, but plan to buy data in bundles to save money.
Источник
The 5 Best Mobile Wi-Fi Hotspots of 2021
Our editors independently research, test, and recommend the best products; you can learn more about our review process here . We may receive commissions on purchases made from our chosen links.
Wi-Fi hotspots or mobile hotspots easily and inexpensively connect all of your devices. Whether you want to link your phone, tablet, laptop, or another device, a hotspot prevents draining your phone's battery while maintaining a quality internet connection. A mobile hotspot acts as an access point to the internet, so you can connect wherever you are, whenever you want. Hotspots are relatively small and portable in size, which is perfect for anyone on the go. You have the option to use your hotspot at home, while traveling, or anywhere that has spotty internet or no internet at all.
Sure, you could use your phone as a hotspot, but you'd be susceptible to disruptions when connecting to a cellular network or due to bandwidth limitations. Your phone's data primarily is used for calls, texts, email, and various mobile applications. By using your phone as a hotspot in addition to your typical data usage, you are destined to overload and eventually kill your battery. If you want a strong connection without sacrificing your phone, a mobile hotspot is ideal!
The hotspot market has grown considerably in the past year, alone. For example, batteries have longer lifespans, 5G networks are more prevalent, download speeds are faster, and prices are reasonable. We've taken the guesswork out for your Wi-Fi hotspot purchase and researched the best ones available to suit your desires.
Best Overall: Skyroam Solis Lite
Affordably priced plans
Fast data speeds
Expensive hardware setup
Unreliable USB-C connectivity
The Skyroam Solis Lite is perfect for world travelers, due to its easy setup and unlimited data. The device allows users to receive 4G LTE mobile Wi-Fi speeds in more than 135 countries. The Solis' reach includes North America, South America, Europe, Africa, and the Middle East. While you hop from country to country, you don't have to worry about locating and purchasing local SIM cards. Instead of a traditional SIM card, the Solis is based on the patented vSIM technology. Not only can you take this hotspot across the globe, but the unit also can connect up to 10 devices at once. With an impressive 6,000mAh power bank, the Solis provides 16 hours of battery life. While you're working off the speedy Wi-Fi, you also can charge your mobile devices, as the unit includes a USB-C connection.
The flexibility of the network is just as flexible as the Solis' data plans. Since Skyroam doesn't offer contracts, users can purchase data by the day, month, or gigabyte. Plans are available for the United States and for the globe, ranging from $9/day to $99/month. If you prefer to purchase data by the gigabyte, Skyroam offers a Go Data plan, which gives users 1GB of data use per month for just $6. Many reviewers expressed that the data gets easily consumed when multiple devices are connected, or when performing data-heavy activities. Fortunately, if you need more data, you can purchase more data for only $6. For most carriers, domestic or otherwise, $6 is considerably cheaper than roaming charges.
Источник
5 лучших приложений, которые превратят ваш смартфон в Wi-Fi роутер
Почти все Android-смартфоны в наши дни оснащены опцией, позволяющей раздавать интернет, выступая, по сути, в роли Wi-Fi роутера. Эта функция доступна в настройках вашего гаджета и ничего сложного в ее использовании нет. Куда интереснее обстоят дела со специализированными программами, которые превращают ваш смартфон в мобильный роутер. Используя их, вы получите доступ к массе возможностей по настройкe беспроводной сети. Чего добиться встроенными средствами, увы, не выйдет.
Speedify. Создаем безопасную сеть
Speedify предлагает возможность организовать безопасное соединение через Wi-Fi, чтобы ваш смартфон был защищен от вирусов и других киберугроз. Многие хакеры используют общедоступные точки доступа Wi-Fi для заражения гаджетов пользователей. Speedify имеет технологию под названием Channel Bonding, которая будет использовать несколько интернет-подключений параллельно для обеспечения лучшей скорости и низкой задержки. А встроенный VPN-сервис позволит вам получить анонимность во время пребывания в сети
VPN Hotspot. Обходим блокировки
VPN Hotspot, как ясно из названия, делает основной упор на создании защищенного VPN-соединения, которое не только скроет следы вашего пребывания в мировой паутине, но и позволит вам зайти на сайты, которые по тем или иным причинам недоступны. Хотя мы не агитируем вас это делать. VPN Hotspot выступает в качестве хоста, к которому уже подцепляются другие устройства. Это гораздо удобнее, чем настраивать VPN-подключение на каждом гаджете по отдельности.
NetShare. Не говорим свой пароль никому
NetShare является одним из лучших приложений для организации точки доступа Wi-Fi. Более того, вы можете создать точку доступа, даже если вы подключены к другой точке доступа Wi-Fi. Зачем это нужно? Ну, например, в том случае, если вы хотите раздать интернет, но не хотите никому называть пароль от своей Wi-Fi-сети. При этом многие пользователи хвалят приложение за стабильность работы и отсутствие обрывов соединения.
OpenSignal. Ищем Wi-Fi-сети
OpenSignal — это обязательное к установке приложение, которое позволит вам сканировать местность на предмет точек доступа. Примечательно то, что вы также можете проверить и наличие сотового покрытия на интерактивной карте. Также вы можете найти вышки сотовой связи, чтобы обеспечить себе лучшее качество сигнала. А еще тут есть опция по тесту скорости интернет-соединения. Дополнительный бонус: приложение бесплатно и в нем нет даже намека на наличие встроенной рекламы. Прямо как на нашей страничке в Яндекс.Дзен. Рекомендуем подписаться!
WiFi Analyzer. Создаем самую быструю Wi-Fi сеть
Вряд ли ваша беспроводная сеть является единственной в округе. Есть и другие пользователи, а большее количество пользователей означает меньшую пропускную способность на определенных частотах. WiFi Analyzer сканирует область на предмет наличия точек доступа и позволяет найти наименее загруженный канал, который вы и сможете использовать для раздачи Wi-Fi при помощи своего смартфона.
Источник